CDE Ed Talks Podcast Episode 2
---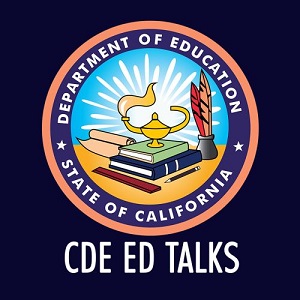 CDE News Update: May 14 Update from Superintendent Thurmond
Published: May 14, 2019, Duration: 00:21:29
State Superintendent of Public Instruction Tony Thurmond hosts bi-weekly media check-ins to provide an overview of what the CDE is focused on and updates from his office. In his second media check-in on May 14th, he talked about teacher and educator housing, statewide literacy efforts, the May revise to the California state budget, and more. He also answered questions from the media.
Transcript
[Intro music plays]
Cynthia Butler: You're listening to a CDE news update on CDE Ed Talks.
[Music]
Cynthia: This is Cynthia Butler. Thank you for listening to CDE Ed Talks. State Superintendent Tony Thurmond is hosting bi-weekly media check-ins to provide an overview of what the CDE is focused on and updates from his office. In his second media check-in on May 14th, he talked about teacher and educator housing, statewide literacy efforts, the May revise to the California state budget, and more. He also answered questions from the media. Here's what he had to say.
Tony Thurmond: I think it's been a pretty good couple of weeks in education. On the state budget, the mid-year revise being announced, I think has really said a lot of great things for our education by most people's accounts. In spite of the need to put aside more money in savings, still some 4 billion promoted towards education efforts. I believe the percentage after the savings is upwards of 40 percent of the proposed budget towards K-12 education. It's certainly helpful for our work here at the California Department of Education. There are many new positions added that would allow our agency to work closely with the governor and his team on his vision for expanding early education, a number of other positions that helped to fill holes really that exist in our infrastructure and allow us to grow our capacity to be able to better serve school districts and ultimately students.
Some top lines that I think are very, very notable and important for districts: Some $692 million in special education. We know that that's one of the top areas where our districts are feeling the pinch and the burden the most, where they need support. A number of $89 million for helping districts to recruit and retain teachers. Another 44 or some million that would support training of existing teachers and staff. Significant investments from the budget that would allow districts to pay down even more dollars around pension costs. And so I think this is a win for education in California. It's a great start to the things that we need to do long-term and we are thankful to the Governor for his vision for supporting California education and for supporting the Department of Education to do this work.
A new proposal that was in the budget that we think is very important and something that we've been working on directly and advocating for, was dollars have been called out specifically that can be used to help school districts build teacher and educator housing. This would be housing for classified and certificated staff. As far as I can tell this is the first time in recent history that the state budget has set aside dollars that can be used for this purpose. It comes across in two ways: Some $125 million that school districts can use in grants for pre-development if they want to build teacher housing—and that means everything from working with architects and builders and designers to lay out what would need to happen to move from say a surplus property, to the place of where you can actually have affordable units built for teachers and classified staff. The other component to that, that is in the budget, is the Governor announced $500 million in tax credits. And these tax credits would allow for developers to build housing for people whose income goes up to 120 percent of the annual median income. That's significant because most federal grants don't allow those folks to be supported. These are people who typically earn as teachers, firefighters, nurses police officers, we call them the missing middle. And as our districts struggle to close their shortages in staff, this is a very important resource for educators that now there are tax credits that can be used to build affordable housing for teachers and other educator staff. And so, again, I think this rounds out what was a great budget week for California for and for education, and the teacher housing is something that we've been advocating for, and tracking specifically.
Great week at the Department of Education. Last week we did hold a panel discussion on the issue of assessment, and how do we predict success for students in college. We had a number of statewide researchers and experts who shared their data that points to better ways to support our students. They talked about the importance of GPA and how SBAC combined right now point to the best ways to predict college success. I think they gave us a lot to think about—about how we best prepare our students for college success. But what I really appreciate is that they said that our kids are more than a test score. And that it's more than just having kids memorize one test or prepare for one major test to get into college. But that we should be thinking about all the things that young people will need to do in their lifetime: public speaking, to go into an interview, to know how to work with others, to use their critical thinking skills, to work on civics and to be civically engaged in their community. We think that the forum led to a very robust conversation about where there's some opportunities for future policy change. We'll have a small working group that will analyze some of the data and do some work to identify where there might be opportunities in the future for policy change as it relates to how we test and assess kids for future college success.
We named a couple co-chairs for our work around closing the achievement gap. We also convened a few weeks ago a panel that talked about how we can expand a pipeline program in California to have more minority male educators of color in elementary school. The data shows that this is a strategy that will help to close the achievement gap and we will be working with foundations and nonprofits, with CSUs and other institutions of higher education, to develop a plan to expand these programs.
I want to announce today that we will be making chronic absenteeism and reducing chronic absenteeism a top priority for the California Department of Education, and for my administration. The fact that kids miss 10% of school puts them at great risk that they won't learn to read by third grade, that kids can drop out of high school. And I think that we have a moral imperative to help every single student improve their attendance, so they learn to read by third grade, so that they graduate and not drop out. This has been a daunting issue for school districts, because the reality is that school districts don't have the resources to have sometimes an attendance clerk, or an outreach worker, who can actually go work with families who are experiencing chronic absenteeism. This is an issue I've worked on for, I would say five or six years, directly at a school-based mental health organization where we use Medi-Cal to send out counselors to go work with families who had students with chronic absenteeism. What we've learned is that the reason kids missed so much school is that there's usually a social or health issue that becomes a barrier to their attendance.
Obviously the impacts of poverty keep our kids out of school. Asthma tends to be a huge issue. Other health factors: trauma, any kind of substance abuse, domestic abuse, transportation issues, you name it. There are all these barriers that keep many of our kids from attending school on a regular basis. And we're going to be looking at ways that we can work with school districts and County Offices of Education to help them in their efforts to close the attendance gap. We think that this goes hand-in-hand with closing the achievement gap. We think that it goes hand-in-hand with improving literacy in our state. And as you as you might recall we are laying the foundation to establish a statewide literacy campaign.
We sponsored legislation that would increase professional development for teachers around pedagogy that can be used to support literacy. We are exploring options to work with foundations and others to do more family engagement to make sure that families, parents know how important it is to read to their kids, and that they have access to books and resources to support that. More to follow on that legislation.
We're tracking legislation that would expand Community Schools Funding in the state. And we think that the Community Schools Funding can be very helpful to helping districts with their efforts around reducing chronic absenteeism. So more to follow on those.
The State Board moved forward last week with a new health curriculum framework that passed unanimously. Our staff has worked with the State Board and with experts on how to put the framework together and provide resources for teachers and families who have questions about how to talk to their students about areas that can be risky, like how to help middle school students and high school students make safe choices around sexual activity. But there are also components that focus on nutrition and well-being for our students. And so that framework has been passed.
We continue our work on the Computer Science Implementation Plan. I would note that the governor's mid-year revise allocates dollars for a number of staff positions at the California Department of Education to implement this plan.
So I'll stop there to see if there are any questions where we can provide more information or provide greater emphasis.
Ricardo Cano, CALmatters: Well thanks for the update. Do you have an update on the Charter Task Force?
Tony Thurmond: Yes the Charter task force is still meeting and the task force has been hearing—as it continues to look at the issues around fiscal impact, that charters have on traditional public schools and issues around authorization—the task force has been able to hear from representatives of school districts who've told in their own words what the impacts have been to their districts. This includes Oakland Unified School District, San Diego Unified School District, and Los Angeles Unified School District will be presenting in the very near future. So the task force is still ongoing, has a number of issues that they're still working on. But I would say that the progress and the pace is very good.
Ricardo Cano: Is the report coming out July 1st? I guess, okay. I'm just hoping to clarify. Is it going to come before July 1st, or on July 1st, or…?
Tony Thurmond: We've always envisioned July 1st as an end by date, and so if possible there could be updates. If there are updates to be provided before then, they will be provided. At this point the task force is still working towards that getting all their work done by July. I for one would like to see if there are issues that the task force can still work on even after July 1st. I think that when you make reforms in an area of law that are, you know two decades old and hasn't been significantly modified, I think it's reasonable to expect that there may be opportunities to keep talking about: What is the role of charter schools in the state of California? And how to charter schools and traditional public schools work together to educate our kids? And so more to follow. We'll keep you updated. But we do expect that there'll be some reports and updates by July 1st, and we'll share those as they become available.
Ricardo Cano: I know this wasn't covered, but the Sac City Teachers Union has asked you to get involved and it's kind of your third instance. And I'm just wondering if you had an update on your involvement with what's going on in Sac City Unified?
Tony Thurmond: Yes, I'd say this is preliminary, but it is true that the Sac City Teachers Association did ask, did send a note to my office, asking if we'd convene meetings of all the principal parties. And you know that request actually happened to arrive at the same time that I've been sort of reaching out to parties to do just that. And so I'm happy to say that we've reached out to the Sac City School District, to the Sacramento County Office of Education, to the Sacramento Teachers Association and to FCMAT, to say that we are happy to convene meetings, that can help us to do a couple of things: One, see if we can avert another strike, and more importantly, look for ways to reduce expenses that could lead to the Sac City School District entering into receivership. We don't have any date set yet but we're working on that and we should have something for you imminently.
I would note that the Sac City School Board will be meeting on Thursday, and when they meet they will be announcing the third interim report. And I believe that will be a first step in showing a snapshot of where things are financially for the district. I think that will indicate where we need to put our emphasis, as those convenings get underway and those meetings take place.
Ricardo Cano: I mean, I don't know if you're comfortable answering, but you know, because you helped settle the LA and Oakland teachers strikes and I'm kind of just wondering from your perspective how the dynamics might be different in Sac City Unified?
Tony Thurmond: You know, I'll just be honest: I don't have a lot of experience with the Sac City School District. And in the case of the Oakland Unified School District, I've spent the better part of 10 years working with students in that district, so I know many of the parties already. And so that's where I probably spent the most time of all of the strikes. I think at last count we spent some 25 hours mediating directly after the parties asked us to.
In L.A., you know I was a little bit more behind the scenes, because again I'm not from that community and have not worked directly with any of those stakeholders for a long period of time. But at the invitation of the mayor's office we were able to be in the room and to offer support that we can. And we're happy to do the same with Sac City.
At the end of the day I think it's important that all the parties be in the room at the same time. We have to come together around a set of numbers, about what is the current fiscal picture for the district. That is our key assignment. Then there have to be tough conversations about how the district can reduce. What are those expenses? And so I'm hopeful. The first step is getting people in the room and by all accounts, this is a scenario that has reached the level of impasse.
When people stop talking to each other I define that as an impasse and so now that the parties are willing to come together I'm encouraged by it. But I would just acknowledge that this is not going to be easy work. At last count the district was facing a $35 million deficit. That's a significant deficit and hard to make any reductions to total that amount. That means that they are going to have to be really tough and focused conversations that involve everyone. All the parties have to come together. All of the employee groups, not just the teachers, and we're happy to work with them: the school district, and the school board, and the superintendent and their leadership. The county office already has a fiscal adviser who works with the district. And so it was important to me that we pull all the parties together to talk about how we build a plan for Sac City. Again our goal is to avert any future strikes, any further strikes, and help them identify ways to reduce their expenses.
Ricardo Cano: That was it.
Tony Thurmond: Is that it for you? Great. It's your show today so if you've got any questions, we we're here for you. We're here for you. [laughs]
Ricardo Cano: Again, I mean how do you feel about being asked to kind of get involved? It's not part of your job description, but you know...
Tony Thurmond: It's not. Someone told me once it's an honor to be asked anything even if it's hard. Right now, as you note, it is not in my formal job description. I don't have any formal authority over any district. Of all the thousand districts in the state I don't have any formal authority over any of them.
But if it's if it's true what they say about this position, that it is through the bully pulpit, or through using it as a sort of a microphone for putting an important attention to important issues, then that's the role that I accept. And if a group is at impasse and they're willing to come together and they have invited me to help bring them together, I think that's a great sign. And I accept that. I accept that while acknowledging that there are limitations to what we were able to do around time. We don't have, the state doesn't have any ability to just say: "Here are resources that are going to make your deficit go away."
But I think that being in the room and bringing people together and saying: "The one condition I always make is that the parties have to stay at the table." They have to keep talking to each other. And I always ask the groups to start the same way—thinking about what it is that they love about the kids that they serve. Because even though they have to make tough decisions, even though they disagree with each other, I want them thinking about that through the lens of what is best for kids. And that is what will guide us to a solution. Now Sac City's situation, Oakland's situation, L.A.—to me typifies a challenge that we're dealing with statewide and nationwide.
If you look at what the Sac City teachers are asking for, they're asking for small class sizes, more nurses, and counselors and psychologists. These are things that our students really need to be successful. Our districts are struggling to provide that. And so I think that the strikes that we've seen statewide and nationwide are telling us that we have to change the way we fundamentally fund our schools in the state of California. I think that the Governor's budget is a great bridge that gets us through this year and then can bridge us to what I think has to be a long term conversation about how we create permanent funding sources that move us from being 41st in the nation in per-pupil spending. California has got to get to the place where we're number one. It's not going to happen overnight but it's among my top priorities for my time as Superintendent. And I believe that we can get there and I've named the workgroup that is focused on just that: How do we identify all the permanent funding sources that can be used to get us there?
And so I think that's what these strikes are really telling us. We've got to get serious about how we invest in our schools, so that schools have small class sizes, nurses, and counselors, that teachers can get better compensation. But districts have to get help from the state to be able to do this you know. They have limits on their dollars and we have to provide them with some support to get there. So this is going to be an ongoing conversation. But I believe that the Governor's budget bridges us to the future where we can work on permanent funding strategies.
Any other questions?
Ricardo Cano: I think I'm good.
Tony Thurmond: Anybody else? Thank you all for being here. Thank you very much. That is a wrap. Thanks.
Ricardo Cano: Thank you.
[Music]
Cynthia Butler: This has been a CDE news update on CDE Ed Talks.
[Music]

[End of Podcast Episode 2]
Last Reviewed: Monday, December 02, 2019
Recently Posted in What's New
No items posted in the last 60 days.