December 27, 2011 Letter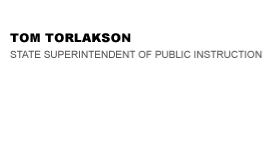 California Department of Education
Official Letter
California Department of Education
Official Letter
Dear County and District Superintendents, Special Education Local Plan Area Directors, Special Education Administrators at County Offices of Education, Charter School Administrators, Principals, and Nonpublic School Directors:
ASSEMBLY BILL 114: DEVELOPING A SYSTEM FOR THE PROVISION OF RELATED SERVICES
With the passage of Assembly Bill 114, local educational agencies (LEAs) are now solely responsible for ensuring that students with disabilities receive special education and related services, including some services previously arranged for or provided by county mental health agencies. Several issues must be considered as LEAs develop a continuum of program options, including securing the services of qualified personnel, accessing available funding sources to support service provision, and ensuring that the array of services is able to meet each student's specific needs 1. As always, student needs are identified through the development of an individualized education program (IEP) which ensures the student receives a free and appropriate public education (FAPE) in the least restrictive environment (LRE) as required by law (United States Code, Title 20, Section 1412), and must be provided for regardless of funding considerations.
The California Department of Education (CDE) has developed several resources to support LEAs in addressing these critical issues, including the attached graphic, "An IDEA-based System for Delivery of Special Education Related Services," and a series of enclosed supporting documents which provide more specific information on the topics referenced in the graphic. The graphic shows the interrelationship between identified student needs, the local array of services, the personnel employed to provide services, and the funding sources that support service provision:
The first and foremost consideration is the needs of the student, hence the reader should begin with the column on the left, identifying the students who require related services, assessing their needs, creating appropriate educational plans and goals, and arranging for the provision of identified services. (See Enclosure A, "Individuals with Disabilities Education Act System for Related Services," for more information on each of these considerations.)
Once the current and potential service needs are identified, the LEA develops an array of services that includes required services for all students. (See Enclosure B, "Continuum of Alternative Placement Options," for more information on elements of the array of services.)
The LEA must then determine the means by which all services in the array will be provided, whether by directly employing personnel or by contracting with qualified providers for the service (see the delivery model options documents, enclosures C1, C2, and C3, for information on options for providing related services).
The left-to-right orientation of the graphic recognizes that identified students' needs determine the array of services necessary. The identified needs drive decisions related to personnel and funding sources required to implement the array of services within a continuum of program options, allowing LEAs to provide students with FAPE in the LRE.

Concurrently, LEAs must be aware of funding sources available to support service provision, which likely have additional requirements for accessing each funding source (this is represented by the bottom arrow in the attached graphic). For example, some funding sources have specific requirements related to personnel, or require interagency agreements that allow access to funding by LEAs. LEAs developing means for service provision must identify the funding sources they plan to access and be aware of specific requirements for accessing those sources, as well as any parameters concerning the use of each source. For more information on this topic, please see the guidance letter on Available Funding Sources and Spending Parameters, dated September 13, 2011, on the CDE Special Education Announcements and Current Issues Web page. The right-to-left orientation at the bottom of the graphic recognizes that some administrative decisions must account for specific personnel and expenditure rules that apply to the various funding sources. LEAs should keep in mind, however, that student needs identified in IEPs must be provided regardless of any fiscal or personnel challenges that arise. While fiscal and personnel concerns must be considered in developing a system to provide related services, these are not to be considered by IEP teams when identifying the needs of students to enable them to access FAPE in the LRE.
If you have any questions regarding this subject, please contact the Special Education Division, Director's Office by phone at 916-445-4602.
Sincerely,
Original signed by Fred Balcom. Hard copy of the signed document is available by contacting the Special Education Division's Director's Office at 916-445-4602.
Fred Balcom, Director
Special Education Division
FB:ja
An IDEA-based System for Delivery of Special Education Related Services (PDF)
Enclosure A (DOC)
Enclosure B (DOC)
Enclosure C1 (DOC)
Enclosure C2 (DOC)
Enclosure C3 (DOC)
Enclosure D1 (DOC)
Enclosure D2 (DOC)

Footnotes
1 "Continuum of program options" is a term used in state special education law. Federal regulations use the synonymous term "continuum of alternative placement options." In both cases, a local array of services provides different service choices which are used to meet the unique needs of a student with a disability.
Last Reviewed: Tuesday, October 12, 2021
Recently Posted in Special Education