Official Memorandum Issued 12/24/2010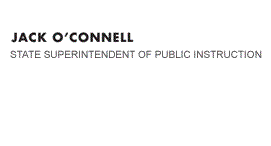 California Department of Education
Official Letter
California Department of Education
Official Letter
Dear County and District Superintendents, Special Education Local Plan Area Directors, Special Education Administrators at County Offices, Charter School Administrators, Principals, and Nonpublic School Directors:
UPDATE: LOCAL EDUCATIONAL AGENCIES' RESPONSIBILITIES FOR ENSURING THE CONTINUOUS DELIVERY OF
MENTAL HEALTH SERVICES TO STUDENTS WITH DISABILITIES
On December 20, 2010, in the federal class action A.C., et al. v. Schwarzenegger, et al., Case No. 2:10-cv-07956-GW-(AGRx), the Honorable George H. Wu heard plaintiffs' motions for a preliminary injunction and a statewide "stay put" order under 20 United States Code (U.S.C.) § 1415j requiring all special education students to remain in their current educational placements.
The court has continued the hearing on plaintiffs' motions until January 24, 2011. In the meantime, in light of the imminent threat by some county departments of mental health (CDMH) to withdraw all educationally-related services as of January 1, 2011, Judge Wu requested the California Department of Education (CDE) to send this memorandum to again remind local educational agencies (LEAs) of their responsibilities under the Individuals with Disabilities Education Act (IDEA), 20 U.S.C. §§ 1400, et seq. and its implementing regulations, and under Government Code § 7570, et seq. (Assembly Bill [AB] 3632), to ensure that educationally-related mental health services and assessments continue without interruption to be provided to all special education students in compliance with all applicable federal timelines. In this regard, the CDE also refers you to prior memoranda on this topic, which are collected at http://www.cde.ca.gov/sp/se/lr/ofclmem.asp.
Under IDEA, 20 U.S.C. § 1412(a)(12)(B)(ii), "If a public agency other than an educational agency [such as a CDMH] fails to provide or pay for the special education and related services described in clause (i), the local educational agency…shall provide or pay for such services to the child." Emphasis added.
Similarly, under federal regulations implementing IDEA, 34 Code of Federal Regulations (CFR) § 300.154(b)(2), "If a public agency other than an educational agency fails to provide or pay for the special education and related services…the LEA…must provide or pay for these services to the child in a timely manner." Emphasis added.
However, under both the federal statute and regulation, the LEA is entitled to claim reimbursement for the cost of services provided and/or paid for by the LEA from the delinquent public agency, such as the CDMH, which "shall" (20 U.S.C. § 1412(a)(12)(B)(ii)) or "must" (34 CFR § 300.154(b)(2)) reimburse the LEA.
LEAs Must Take Immediate and Urgent Action
While it continues to be the CDE's position that the Governor lacked the authority to suspend the AB 3632 mandate, which therefore remains in effect, and to veto the funding, the CDE emphasizes that it is essential that all LEAs take immediate and urgent steps to secure and ensure the continued provision of services for their special education students without interruption. Such steps may include, for example, negotiating an agreement with the CDMH to continue provision of services subject to an agreed allocation of costs, pending resolution of an interagency dispute. (See below.) The CDE understands that 42 school districts and the County of San Diego have now arrived at an agreement to continue to provide mental health services to special education students under AB 3632 through June 30, 2011, through a contract with the County Office of Education. Again, by way of further example, if a student requires assessment, and the CDMH refuses to provide the service, the LEA may contract with an appropriate mental health professional, then seek reimbursement from the CDMH. If the CDMH refuses to sign a contract for the student's residential placement, the LEA may execute the contract, then seek reimbursement from the CDMH.
However, once again, the CDE emphasizes the requirement for LEA's to use all necessary means to ensure the continued and uninterrupted provision of AB 3632 services. Disputes over ultimate financial responsibility must be, and under IDEA and AB 3632 are, secondary to the primary interests of the special education student.
Use of Interagency Dispute Resolution Process
Government Code § 7585 details the interagency dispute resolution process that a LEA may follow when a CDMH refuses to provide or pay for services. Under § 7585(f), "the pupil affected by the dispute shall be provided with the related service or designated instruction pending the resolution of the dispute, if the pupil had been receiving the service." Emphasis added. In addition, Title 2, California Code of Regulations (CCR), § 60560, also allows a LEA to file a complaint against a CDMH if the CDMH fails to comply with the assessment and provision of services to a special education student pursuant to AB 3632. This process follows the general Uniform Complaint Procedure (UCP) described in Title 5, CCR, § 4600, et seq.
Serious Consequences for LEAs' Failure to Comply With Obligations
If a LEA fails to comply with its obligations outlined above, there are potentially very serious consequences. The CDE has significant enforcement authority under both federal and state law. The IDEA is a federal program subject to the requirements of the General Education Provisions Act, 20 U.S.C. §1221, et seq. Under § 1232c(b), "to enforce the federal requirements of the program, the State may--(1) withhold approval, in whole or in part, of the application of a local agency for funds under the program until the State is satisfied that such requirements will be met…(2) suspend payments to any December 24, 2010 Page 3 local agency, in whole or in part, under the program if the State has reason to believe that the local agency has failed substantially to comply with any of such requirements…(3) withhold payments, in whole or in part, under any such program if the State finds, after reasonable notice and opportunity for a hearing before an impartial hearing officer, that the local agency has failed substantially to comply with any of such requirements." The withholding of payments under subsection (3) "shall continue until the State is satisfied that there is no longer a failure to comply substantially with any of such requirements."
Under the UCP, Title 5, CCR, § 4650(a)(7)(E), the State may also directly intervene where a complaint alleges a violation by a LEA of IDEA. If, following investigation, the LEA is found by the CDE to be in violation, under § 4670(a) the CDE shall notify the LEA that it must take corrective action. If the LEA fails to comply with the corrective action, the CDE may use any means authorized by law to effect compliance, including "(1) The withholding of all or part of the local agency's relevant state or federal fiscal support in accordance with state or federal statute or regulation."
The CDE is confident that LEAs will comply or continue to comply with their obligations under IDEA and AB 3632, while the courts resolve the issue of the Governor's authority to veto AB 3632 funding. In that regard, the Court of Appeal for the Second Appellate District has set a hearing for February 8, 2011, on the writ petition of the California School Boards Association (CSBA), and Los Angeles and Manhattan Beach Unified School Districts, to overturn the Governor's veto of AB 3632 funding. In addition, on December 21, 2010, CSBA and Clovis USD were granted leave to intervene in the Sacramento Superior Court action by 37 counties, and filed their complaint in intervention on that date, to oppose the counties' request for a declaration suspending the AB 3632 mandate. CSBA and Clovis USD have also filed opposition to the counties' motion for judgment on the pleadings currently scheduled for January 7, 2011. CDE representatives will also continue to meet with legislative staff to determine a resolution to the veto of the state funding for these important services, and we will provide updated information to you as it becomes available.
If you have any general questions regarding this subject while we work toward a more permanent solution, please contact the Statewide Policy and Implentation Unit by email at SPI@cde.ca.gov.
Sincerely,
Original signed by Fred Balcom. Hard copy of the signed document is available by contacting the Special Education Division's Director's Office at 916-445-4602.
Fred Balcom, Director
Special Education Division

Last Reviewed: Thursday, December 30, 2021
Recently Posted in Special Education
FMTA Consultant Assignments by Region (updated 05-Jul-2022)
The Focused Monitoring and Technical Assistance (FMTA) Consultants are assigned geographically and by quality assurance activity to align with the eleven California County Superintendents Educational Services Association (CCSESA) regions.
ACSE Agenda June 22-23, 2022 (added 10-Jun-2022)
Advisory Commission on Special Education (ACSE) meeting agenda.
Students with Disabilities and Face Coverings (updated 27-May-2022)
Letter to local educational agencies of state and federal guidance requiring face coverings, including allowable exemptions, in order to avoid implementing policies that may result in a denial of a free and appropriate public education.