CA Meals for Kids Mobile Application
CA Meals for Kids Mobile Application
---
About the App
The CA Meals for Kids mobile application helps you find nearby California Afterschool and Summer Meal Programs Sites through your iOS, Android, or Microsoft devices.
The Emergency Meal Sites section may be used during unanticipated school closures due to emergency situations.
Features
Location and Other Criteria Based Searches
Find sites by physical location, custom map, county, city, zip code and partial site name. Filter searches by service status (e.g. active/inactive) and meal types (e.g. lunch, snacks, etc).
Search Results
Display search results as pins on an intuitive map view or as a sortable list view.
Site Details
Display site details such as:
Picture
Address
Location on Map
Directions
Days of Service
Service Status
Program Sponsor
Program Contact
and much more
Save Favorite Sites
Save favorite sites for later.
Share Site Information
Share site details and meal information through e-mail.
Screenshots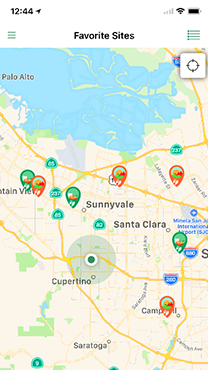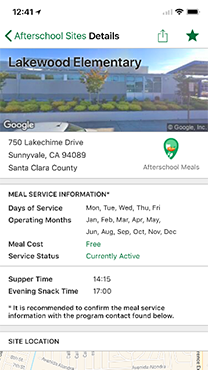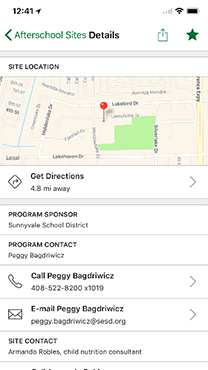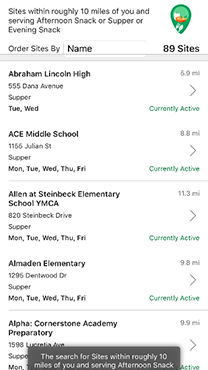 System Requirements
iOS Devices

Requires iOS 9.0 or later. Compatible with iPhone, iPad, and iPod touch.

Android Devices

Android Version 4.0.3 and up

Windows Devices

Operating System: Windows 10, Windows 10 Mobile
Architecture: x86, x64, ARM
Version History
1.4.3 (July 5, 2023) - Updates to support the latest version of Android.
1.4.2 (October 26, 2020) - Added a notice during periods when the Emergency Meal Sites are not being utilized. Also, some behind-the-scenes upgrades to platform code.
1.3.2 (April 30, 2020) - This new version brings many behind-the-scenes quality of life updates that should make the app more stable and take advantage of new additions to the underlying platform that have been added over the last couple years.
1.2.1 (March 18, 2020) - Addition of the Emergency Meal Sites section.
1.1.4 (May 21, 2018) - Minor update for a change to the way Google handles map requests.
1.1.3 (March 13, 2018) - Initial release of CA Meals for Kids.
Legal Notification
Google Play and the Google Play logo are trademarks of Google Inc.
Apple and the Apple logo are trademarks of Apple Inc., registered in the U.S. and other countries. App Store is a service mark of Apple Inc., registered in the U.S. and other countries.
Microsoft and the Windows logo are trademarks of Microsoft Inc., registered in the U.S. and other countries.
Last Reviewed: Friday, July 07, 2023
Trending in Mobile Applications
CA Meals for Kids Mobile Application

(this page)
Recently Posted in Mobile Applications
No items posted in the last 60 days.