CA Standards Mobile Application
CA Standards Mobile Application
---
About the App
The CA Standards mobile app provides quick, targeted access to California content standards.
California educators can use the mobile app for quick access to the Arts, Computer Science, Health Education, History–Social Science, and Mathematics content standards they rely on to design the knowledge, concepts, and skills that students should acquire at each grade level. Use the app to search, filter, and sort standards to isolate specific content, identify standards common across disciplines, and inform decisions around instruction and assessment.
Forthcoming updates will add standards from additional content areas, such as English Language Development and English Language Arts, and will provide additional features to enhance the usefulness of the application to California educators.
The content standards in the CA Standards mobile app reflect the input of educators from across the state, and the approval of the Instructional Quality Commission and the State Board of Education. For more information on standards, curriculum, and instructional resources, or to share ways the app can better support your work, contact Curriculum Frameworks and Instructional Resources Division at the California Department of Education.
Screenshots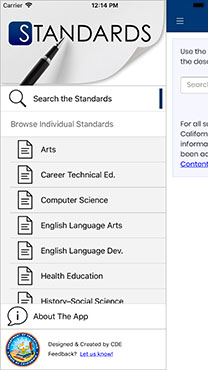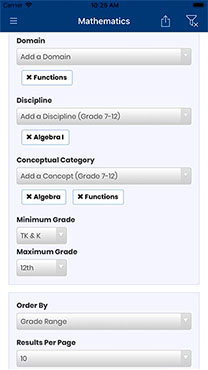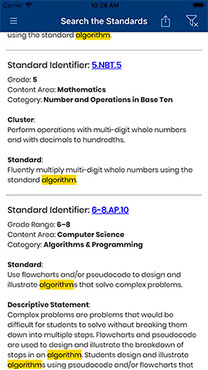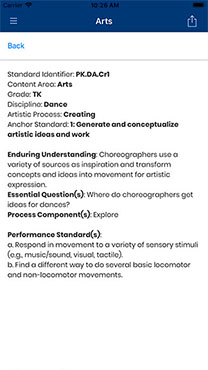 System Requirements
iOS Devices

Requires iOS 9.0 or later. Compatible with iPhone, iPad, and iPod touch.

Android Devices

Android Version 4.0.3 and up

Windows Devices

Operating System: Windows 10, Windows 10 Mobile
Architecture: x86, x64, ARM
Version History
1.0 (June 3, 2019) – Initial release of CA Standards.
Legal Notification
Google Play and the Google Play logo are trademarks of Google Inc.
Apple and the Apple logo are trademarks of Apple Inc., registered in the U.S. and other countries. App Store is a service mark of Apple Inc., registered in the U.S. and other countries.
Microsoft and the Windows logo are trademarks of Microsoft Inc., registered in the U.S. and other countries.
Last Reviewed: Tuesday, June 4, 2019