The CREEC Network
The California Regional Environmental Education Community (CREEC) is a network supporting the environmental literacy of California's students.
---
The CREEC Network is a program of the California Department of Education. The CREEC Network fosters regional partnerships throughout the state of California to promote environmental education and environmental literacy by providing teachers with access to high quality professional learning opportunities and education resources. Along with statewide sponsors and partners, each of the 11 California CREEC Regions is supported by Regional Coordinators. Regional Coordinators provide professional learning opportunities and resources to educators as well as foster communications among schools and organizations interested in supporting the environmental literacy of California's teachers and students.
Each CREEC Region can provide information about additional resources available in each county. More information about the California County Superintendents Educational Services Association (CCSESA) can be found on the CCSESA

Web site.
Use the list of Regions below to locate sources for more information.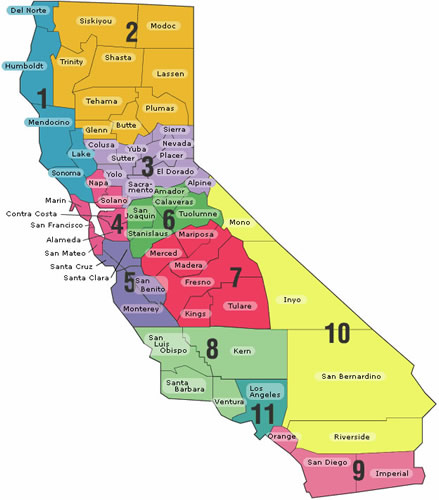 CREEC Regions
Counties Served Within Each Region
Contacts Within Each Region

Region 1

Humboldt, Del Norte, Lake, Mendocino, Sonoma

Primary: Allison Poklemba, email: allison.poklemba@humboldt.edu

Sonoma County: Laura Powell, email: bacreec@comcast.net

Region 2

Butte, Glenn, Lassen, Modoc, Plumas, Shasta Siskiyou, Tehama, Trinity

Nathan Fairchild, email: nfairchild@shastacoe.org

Region 3

Alpine, Colusa, El Dorado, Placer, Nevada, Sacramento, Sierra, Sutter, Yolo, Yuba

Primary: Deborah Bruns, email: Deborah.Bruns@ycoe.org

Co-Coordinator: Karen Swan, email: Karen.Swan@ycoe.org

Region 4

Alameda, Contra Costa, Marin, Napa, San Francisco, San Mateo, Solano

Dawn O'Connor, email: dawno@acoe.org

Region 5

Monterey, San Benito, Santa Clara, Santa Cruz

Amity Sandage, email: asandage@santacruzcoe.org

Region 6

Amador, Calaveras, San Joaquin, Stanislaus, Tuolumne

Primary: Conni Bock, email: cbock@sjcoe.net

Amador, Calaveras, and Tuolumne Counties: Glen White, email: gwhite@tcsos.us

Region 7

Fresno, Madera, Mariposa, Merced, Kings, Tulare

Primary: Jody Bertolucci, email: jbertolucci@fcoe.org

Secondary: Sonya Force, email: sforce@fcoe.org

Region 8

Kern, San Luis Obispo, Santa Barbara, Ventura

Celeste Royer, email: croyer@slocoe.org

Region 9

Imperial, Orange, San Diego

Primary: Crystal Howe, email: creecSD@gmail.com

Orange County: Helen de la Maza, email: hdelamaza@ocde.us

Region 10

Inyo, Mono, Riverside, San Bernardino

Primary: Mary Walls, email: maryborobiawalls@gmail.com

Inyo, Mono, and Northern San Bernardino Counties: Dave Ficke, email: yosemitedave1@hotmail.com

Eastern Riverside County: Jennifer Futterman, email: jfutterman@rcoe.us

Region 11

Los Angeles

Candice Dickens-Russell, email: crussell@treepeople.org
Lyris E-mail List
If you would like to receive Environmental Science Education updates via e-mail notification about resources, workshops, institutes, funding opportunities, contests, and legislation related to Environmental Science and Environmental Education, subscribe to the Lyris e-mail list by sending a "blank" message to join-environmental-science-ed@mlist.cde.ca.gov.

If you would like to unsubscribe from the Environmental Science Education Lyris e-mail list, send a "blank" message to unsubscribe-environmental-science-ed@mlist.cde.ca.gov.
Questions
If you have any questions about the CREEC Network, please contact Shannon Gordon by e-mail at sgordon@cde.ca.gov or by telephone at 916-319-0190.
Questions: Standards Implementation Support Office |
stem@cde.ca.gov
| 916-323-5847
Last Reviewed: Thursday, March 15, 2018
Trending in Curriculum Areas
Recently Posted in Curriculum Areas