CA Dashboard Mobile Application
CA Dashboard Mobile Application
---
About the App
The CA Dashboard mobile app provides easy access for parents and educators on school and district progress so they can participate in decisions to improve student learning.
Californians can use the CA Dashboard mobile app to easily access information based on the California School Dashboard

. The Dashboard is California's new accountability system and helps parents and educators identify strengths and areas for improvement. Through the Dashboard, California reports how districts, schools (including alternative schools serving high-risk students), and student groups are performing across state measures and responding to local indicator measures.
Features
The CA Dashboard allows for easy access to the state and local indicators through tabbed navigation which include the following three tab buttons:
Academic
English Language Arts
Mathematics
English Learner Progress
College/Career
Implementation of State Standards
Engagement
Chronic Absenteeism
Graduation Rate
Access to a Broad Course of Study
Coordination of Services for Foster Youth (limited to county offices of education)
Climate
Suspension Rate
Basics: Teachers, Instructional Materials, Facilities
Parent Engagement
Local Climate Survey
Coordination of Services for Expelled Youth (limited to county offices of education)
Application Development
Funding to support the development and launch of the CA Dashboard mobile app was provided to the San Joaquin County Office of Education through the 2018–19 (Assembly Bill 99, Sec. 77) State Budget trailer bill.
For more information on the Dashboard, contact the California Department of Education Academic Accountability Unit by email at aau@cde.ca.gov.
Screenshots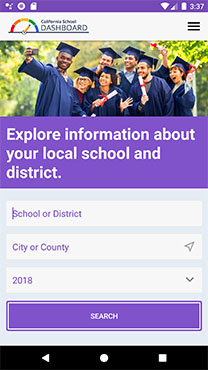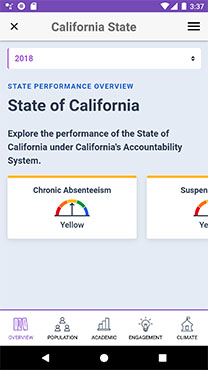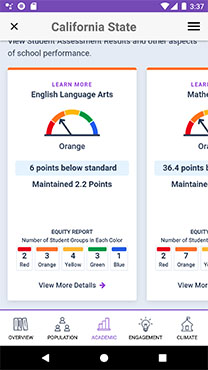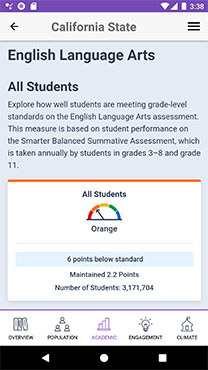 System Requirements
iOS Devices

Requires iOS 12.0 or later. Compatible with iPhone.

Android Devices

Android Version 5.0 (Lollipop) and up
Version History
1.0.7 (April 13, 2023) – Fixed bug that was causing the text not to update after selecting a language.
1.0.6 (April 7, 2023) – UI improvements for newer devices. Bug fixes.
1.0.5 (March 25, 2020) – Updated the app to include language metrics.
1.0.4 (January 16, 2020) – This update includes added support for Mandarin, Tagalog, and Vietnamese along with an improved language selection interface.
1.0.3 (October 2019, iOS only) – This update fixes UI issues when dark mode is enabled.
1.0.2 (October 2019) – Updates include:

Version number of the app at the bottom of the home screen.
Years menu has been updated to hide inactive reports.

1.0.1 (August 2019) – Added Purpose and Overview
1.0 (June 2019) – Initial release of CA Dashboard.
Legal Notification
Google Play and the Google Play logo are trademarks of Google Inc.
Apple and the Apple logo are trademarks of Apple Inc., registered in the U.S. and other countries. App Store is a service mark of Apple Inc., registered in the U.S. and other countries.
Last Reviewed: Thursday, November 17, 2022
Trending in Mobile Applications
Recently Posted in Mobile Applications
No items posted in the last 60 days.