Consultant Regional Assignments
This is a list of California counties by region and the Early Education Division Consultants assigned to each region.
---
Important Notice: Programs Moved to CDSS
While the California Department of Education continues to operate the California State Preschool Program, the Early Childhood Development Act of 2020 (Senate Bill (SV) 98, Chapter 24, Statutes of 2020) authorized the transfer of many childcare programs from the California Department of Education to the California Department of Social Services (CDSS) effective July 1, 2021. The content on this page may include programs that have moved to CDSS. For additional assistance you can either visit the CDSS Child Care Transition web page

or call 1-833-559-2420 for more information.
Early Education Division (EED) Consultants are available to provide assistance and answer questions about early education and support, and are assigned by region. Find the county in the list below to identify the assigned EED Consultant to contact.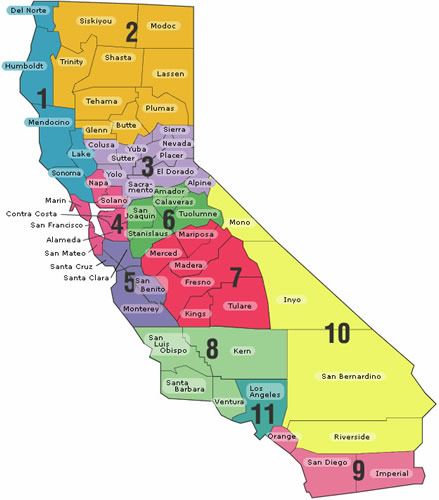 Region
Counties/SPAs
Consultant
Phone
Email
1
Del Norte, Humboldt, Lake, Mendocino, Sonoma

Shellie MacColl

916-445-7353

2
Butte, Glenn, Lassen, Modoc, Plumas, Shasta, Siskiyou, Tehama, Trinity

Shellie MacColl

916-445-7353

3
Alpine, Colusa, El Dorado, Nevada, Placer, Sierra, Sutter, Yolo, Yuba

Nadia Kersey

916-323-1312

3
Sacramento

Cassandra Lewis

916-323-8524

4
Alameda

Cassandra Lewis

916-323-8524

4
Contra Costa, Marin, Napa, San Mateo, Solano

Nancy DeArmond

916-323-1328

4
San Francisco

916-323-1345

5
Santa Clara

916-323-1345

5
Santa Cruz

Nancy DeArmond

916-323-1328

5
Monterey, San Benito

916-322-4861

6
Amador, Calaveras, San Joaquin, Stanislaus, Tuolumne

Nadia Kersey

916-323-1312

7
Fresno, Madera, Mariposa, Merced

Vacant
Interim Consultant
Cassandra Lewis


916-323-8524

7
Kings, Tulare

916-322-4861

8
Kern

916-322-4861

8
San Luis Obispo, Ventura

Vacant
Interim Consultant
Richard Miller


916-319-0546

8
Santa Barbara

Sandy Patitucci

916-323-1355

9
Imperial

Vacant
Interim Consultant
Sandy Patitucci

916-323-1355

9
Orange

Richard Miller

916-319-0546

9
San Diego

Sandy Patitucci

916-323-1355

10
Inyo, Mono, Riverside, San Bernardino

Vacant
Interim Consultant
Sandy Patitucci

916-323-1355

11
Los Angeles, (Agency Assignments for Monique Williams-Turner) SPA 1, SPA 3, SPA 5

Monique Williams-Turner

916-323-7833

11
Los Angeles, (Agency Assignments for Michael Benton) SPA 2, SPA 4

Michael Benton

916-322-1461

11
Los Angeles, (Agency Assignments for Sandra Flores) SPA 6, SPA 7, SPA 8

Sandra Flores

916-323-7833
Program Quality Implementation (PQI) Office
PQI North Unit
Crystal Devlin, Education Administrator
Phone: 916-323-0216
Email: cdevlin@cde.ca.gov
Consultants/Analyst/Office Technician
Nancy DeArmond, CDC
Nadia Kersey, CDC
Cassandra Lewis, CDC
Shellie MacColl, CDC
Amy Silva, CDC
Vacant, CDC
Alice Ludwig, AGPA
Mai Xiong, SSA
Lisa Rojo, OT
PQI South Unit
Linda Morales, Education Administrator
Phone: 916-319-0318
Email: lmorales@cde.ca.gov
Consultants/Analyst/Office Technician
Michael Benton, CDC
Silvia Figueroa, CDC
Sandra Flores, CDC
Richard Miller, CDC
Sandra Patitucci, CDC
Monique Williams-Turner, CDC
Roxane Fidler, AGPA
Marcia Smith, AGPA
Shirley Posh, OT
Questions: Early Education Division | 916-322-6233
Last Reviewed: Wednesday, November 24, 2021
Trending in Child Development
Recently Posted in Child Development