Mathematics Framework FAQs
Information and frequently asked questions about the draft
Mathematics Framework
.
---
Updated July 13, 2022
What is the purpose of the framework?
Curriculum frameworks offer guidance for implementing content standards. Frameworks describe the curriculum and instruction necessary to help students achieve proficiency, and they specify the design of instructional materials and professional development. Further, they provide guidelines and selected research-based approaches for implementing instruction to ensure optimal benefits for all students. Additional information is available on the Curriculum Frameworks and Instructional Materials web page.
The research cited and discussed in the draft California Mathematics Framework for California Public Schools: Kindergarten Through Grade Twelve (Mathematics Framework) will help local educators as they work to diversify options and improve math outcomes for all students, including those who excel and those who struggle to successfully access math content and skills.
Why is the Mathematics Framework being revised?
The California State Board of Education (SBE) adopts curriculum frameworks for kindergarten through grade twelve (K–12) in accordance with California Education Code (EC) Section 51002, which calls for the development of "broad minimum standards and guidelines for educational programs." Curriculum frameworks for English language arts/English language development, mathematics, history–social science, science, and other content areas are aligned to the SBE-adopted academic content standards. The SBE adopted the current Mathematics Framework for California Public Schools: Kindergarten Through Grade Twelve in November 2013.
ECSection 60200(b)(1) directs the IQC to develop and the SBE to adopt a revisedMathematics Framework. This will occur in 2022-23. California students' demonstration of deep mathematical learning on local and state assessments continues to be a concern and a priority for districts. This includes the importance of high levels of mathematics understanding for college and career preparedness. This revision will update the guidance for teachers, administrators, and other educational decision-makers to ensure effective implementation of the California Common Core State Standards for Mathematics (CA CCSSM).
What is the process for framework development?
The guidance contained in the draft Mathematics Framework was informed by the contributions of members of the public, individuals as well as interested organizations and coalitions of organizations, who provided feedback and numerous recommendations to the Mathematics Curriculum Framework and Evaluation Criteria Committee (CFCC) and the Instructional Quality Commission (IQC).
Pursuant to the California Code of Regulations, Title 5, Section 9511, the SBE appoints the CFCC. The CFCC is the advisory committee of 20 mathematics practitioners, the majority of whom are mathematics instructors at the time of appointment, "to assist in the process of developing a curriculum framework."
The Mathematics CFCC met a total of eight times in 2020 to review and provide edits and recommendations on the draft Mathematics Framework chapters in accordance with the SBE-established guidelines. The guidance contained in the current draft Mathematics Framework was reviewed and recommended to the IQC by the Mathematics CFCC.
Public input is an integral part of the state's work. As such, all advisory committee meetings, including those of the IQC, are carried out with full transparency (see the IQC web page). Further, every meeting provides the opportunity for the public to provide input and comment, both in writing as well as orally. The guidance contained in the draft Mathematics Framework was informed by the contributions of members of the public, individuals as well as interested organizations and coalitions of organizations, who provided feedback and numerous recommendations to the Math CFCC and the IQC. The Mathematics Framework is currently under development. For information regarding the timeline, see the Mathematics Framework web page.
When will the revision of the Mathematics Framework be finalized?
During the meeting of the IQC held on May 19 and 20, 2021, the IQC reviewed public comments from the first 60-day public comment period ending on April 8, 2021. The IQC discussed and approved recommended edits to the draft and took action to recommend the Mathematics Framework to the SBE, following the completion of the edits and another 60-day public comment period. The second 60-day public comment period took place between March 14, 2022, and May 16, 2022.
Updating state guidance for teachers on best practices for aligning instruction to California's math standards remains a priority. However, rushing the development of the math curriculum framework runs counter to California's commitment to a transparent process that follows a flexible schedule established at the discretion of the State Board of Education. The adaptable nature of the schedule allows for broad public participation and careful consideration of all potential impacts.
The project timeline has been posted at Mathematics Framework Revision Timeline, which will be updated if or when the schedule changes. To stay up-to-date, please join the Math Listserv. Send a "blank" email message to join-math-framework-revision@mlist.cde.ca.gov.
What edits did the IQC recommend to the framework at their May 2021 Meeting?
The Mathematics Framework revisions recommended in 2021 are meant to address ways curriculum can meet the needs of as many students as possible, making math more accessible and to provide research and guidance so schools can make the best local decisions that provide options and improve math outcomes for all students.
The IQC met in May 2021, following a 60-day public comment period after the first posting of the draft framework. At the meeting, the IQC considered and made numerous revisions, including adding an appendix that includes learning progressions, adding guidance on providing adequately-challenging instructional opportunities and differentiation, the removal of some references that did not best reflect the goals of the framework, and providing additional information regarding the specific needs of various students.
Further, the IQC discussions underscored that the decision about acceleration/honors and Advanced Placement (AP) courses is a local one and requested that the next draft include specific guidance on acceleration (including middle school acceleration) and serving high achievers as well as students with greater needs. Those changes are reflected in the draft that is posted for the second 60-day public comment period.
What are the core ideas of the new Mathematics Framework?
The new framework builds on work in neuroscience and learning sciences that illustrates how people learn mathematics effectively. For example, neuroscientists have learned that learning and performance are enhanced when there is communication between different brain areas—for example, the areas that are involved when working with symbols and those involved with visual/spatial information. For this reason, this framework highlights examples that are support multi-dimensional learning.
The use of open, authentic, multi-dimensional tasks includes, but is not limited to, learning mathematical ideas not only through numbers, but also through words, visuals, models, algorithms, multiple representations, tables, and graphs; from moving and touching; and from other representations. Studies show that when learning reflects the use of two or more of these means, the learning experience improves for all kinds of learners. These approaches align with the principles of Universal Design for Learning (UDL), a framework designed to make learning more accessible and inclusive.
The framework also builds on learning science research showing that students learn best when they understand how major concepts are connected to one another and to real-world examples and applications. With the goal of motivating students to learn coherent, focused, and rigorous mathematics, this framework identifies three Drivers of Investigation (DIs), which provide the "why" of learning mathematics, to pair with four categories of Content Connections (CCs), which provide the "how and what" of the mathematics that is to be learned in an activity. Together with the Standards for Mathematical Practice, the Drivers of Investigation are meant to propel the learning of the ideas and actions framed in the Content Connections in ways that are coherent, focused, and rigorous.
Big ideas

In each grade band section (TK–2, 3–5, 6–8, 9–12), the description focuses on several big ideas that have great impact on students' conceptual understanding of numbers, and which encompass multiple content standards.



Drivers of Investigation

DI1: Make Sense of the World (Understand and Explain)
DI2: Predict What Could Happen (Predict)
DI3: Impact the Future (Affect)



Content Connections

CC1: Communicating Stories with Data
CC2: Exploring Changing Quantities507
CC3: Taking Wholes Apart, Putting Parts Together
CC4: Discovering Shape and Space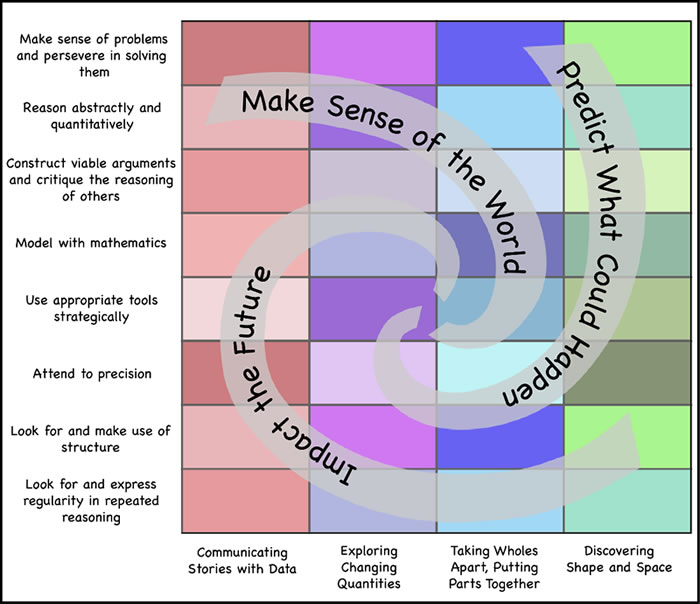 Long Description for the image above: Three Drivers of Investigation (DIs) provide the "why" of learning mathematics: Making Sense of the World (Understand and Explain); Predicting What Could Happen (Predict); Impacting the Future (Affect); The DIs overlay and pair with four categories of Content Connections (CCs), which provide the "how and what" mathematics (CA-CCSSM) is to be learned in an activity: Communicating stories with data; Exploring changing quantities; Taking wholes apart, putting parts together; Discovering shape and space. The DIs work with the Standards for Mathematical Practice to propel the learning of the ideas and actions framed in the CCs in ways that are coherent, focused, and rigorous. The Standards for Mathematical Practice are: Make sense of problems and persevere in solving them; Reason abstractly and quantitatively; Construct viable arguments and critique the reasoning of others; Model with mathematics; Use appropriate tools strategically; Attend to precision; Look for and make use of structure; Look for and express regularity in repeated reasoning.
How does California's framework approach reflect what is happening in high-achieving countries in mathematics?
The US ranks well below the average on international tests of mathematics achievement, and California ranks well below the average within the US. The framework builds on the strategies used in a number of high-achieving jurisdictions (e.g., Estonia, Finland, Japan, and Korea) that pursue an integrated curriculum—connecting the domains of mathematics with one another as students collaborate in using data to solve real-world problems. These countries pursue a common curriculum in elementary and middle school, supporting more students in reaching higher level mathematics. The framework illustrates how this integrated approach with many different kinds of supports can be used to expand the number of students excelling in mathematics and heading for science, technology, engineering, and mathematics (STEM) careers.
What does it mean to teach mathematics in a twenty-first century classroom?
This framework takes the evidence-based stance that all students are capable of accessing and achieving success in school mathematics in the ways envisioned in the CA CCSSM. It offers research and teaching examples that show how diverse students can be supported to think deeply about mathematics and learn effectively in ways that allow them to use their knowledge to solve a wide range of problems. The framework notes that: "'Achieving success in school mathematics' means becoming inclined and able to consider novel situations (arising either within or outside mathematics) through a variety of appropriate mathematical tools. In turn, successful students can use those tools to understand the situation and, when desired, to exert their own power to affect the situation. Thus, mathematical power is not reserved for a few, but available to all."
The framework acknowledges that deep understanding is critical to advancement in mathematics. From chapter 1: "University professors and employers want graduates with critical thinking and reasoning skills. A robust understanding of mathematics, including data science, forms an essential component for many careers in the rapidly-changing and increasingly technology-oriented world of the twenty-first century."
What is the meaning of the word "Equity" in the draft Mathematics Framework?
From chapter 1: "An aim of this framework is to respond to the structural barriers put in the place of mathematics success: equity influences all aspects of this document. Some overarching principles that guide work towards equity in mathematics include the following:
All students deserve powerful mathematics; high-level mathematics achievement is not dependent on rare natural gifts, but rather can be cultivated.


Access to an engaging and humanizing education—a socio-cultural, human endeavor—is a universal right.


Student engagement must be a design goal of mathematics curriculum design, co-equal with content goals.


Students' cultural backgrounds, experiences, and language are resources for learning mathematics.


All students, regardless of background, language of origin, differences, or foundational knowledge are capable and deserving of depth of understanding and engagement in rich mathematics tasks."
Does the draft Mathematics Framework provide guidance for a range of students including students identified as high achieving or gifted?
By direction of the IQC, the revised draft of the Mathematics Framework includes specific guidance on acceleration (including middle school acceleration) and serving high-achieving students. Those changes are reflected in the draft that is posted for the second 60-day public comment period.
Since the development of the 2013 Mathematics Framework, new research has emerged that can be used to inform local conversations about how to best serve high achieving students. There are a number of strategies to challenge high-achieving students described with examples throughout the framework. These are elaborated further in chapter 9, where the framework states: "High-achieving students may be challenged in a variety of ways, including by acceleration through a course pathway, by engaging in additional mathematics learning opportunities in additional courses or extracurricular challenges, and/or through engagement in ambitious inquiries in any given course."
What does the draft Mathematics Framework say about middle school mathematics acceleration programs?
The IQC discussions from the May 2021 meeting underscored that the decision about acceleration/honors and AP courses is a local one and requested that the updated draft include specific guidance on acceleration (including middle school acceleration) and serving high achievers and gifted students. Those changes are reflected in the draft that is posted for the second 60-day public comment period.
Chapter 8 of the draft Mathematics Framework notes that: "Some students will be ready to accelerate into Algebra I or Integrated Mathematics I in eighth grade, and, where they are ready to do so successfully, this can support greater access a broader range of advanced courses for them."
The framework also notes that successful acceleration requires a strong mathematical foundation, and that earlier requirements that all students take eighth grade Algebra I were not optimal for all students. As a consequence, it urges, in chapter 8: "For schools that offer an eighth grade Algebra course or an Integrated Math I course as an option in lieu of Common Core Math 8, both careful plans for instruction that links to students' prior course taking and an assessment of readiness should be considered. Such an assessment might be coupled with supplementary or summer courses that provide the kind of support for readiness that Bob Moses' Algebra project has provided for underrepresented students tackling Algebra in middle and high schools for many years."The draft Mathematics Framework emphasizes the importance of following the sequenced progression of topics laid out in the CA CCSSM and notes that the CA CCSSM are significantly more rigorous than those from previous grade eight content standards. They address the foundations of algebra and geometry by including content that was previously part of the Algebra I course, including but not limited to a more in-depth study of linear relationships and equations, a more formal treatment of functions, and the exploration of irrational numbers. Thus, students who complete the CA CCSSM courses for grades six, seven, and eight are also better prepared than in the past for more challenging mathematics courses in high school.
What does the draft Mathematics Framework say about the high school curriculum?
The draft Mathematics Framework provides several diverse high school pathways, which are set forth in the pathway graphic below.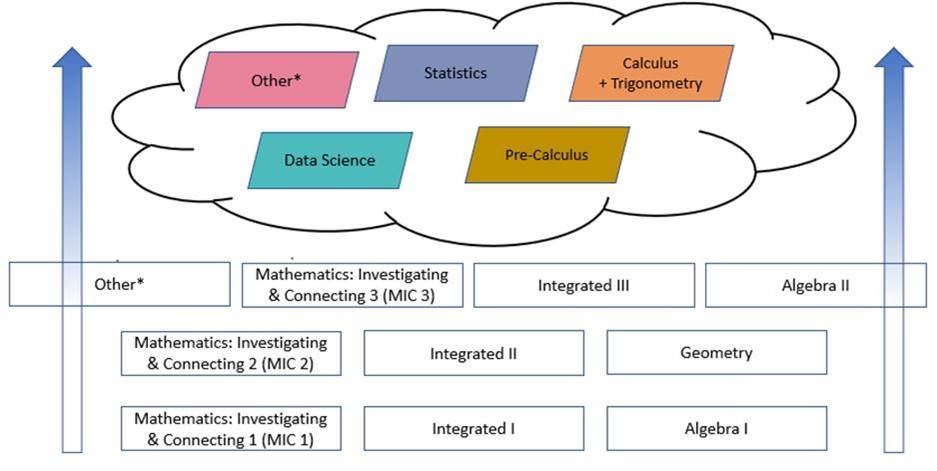 Long Description for the image above: The diagram indicates three pathways of courses indicating a variety of course offerings. The preparatory courses are indicated at the bottom of the diagram. Starting from the bottom up, these include: Investigating and Connecting 1, Integrated 1, and Algebra 1. These are followed by Investigating and Connecting 2, Integrated 2, and Geometry, respectively. The later course options include: MIC – Functions and Modeling, Statistics, Calculus with Trigonometry, Pre-Calculus, Integrated III, Algebra 2, MIC – Data Science, and "Other," which indicates alternative mathematics courses not well represented in the other categories. Many possibilities exist for Other courses, including financial mathematics, discrete mathematics, or further three-dimensional geometry explorations, for example.
Ultimately, the selection of pathways is a local decision. The draft Mathematics Framework does not eliminate the ability of local educational agencies to develop course pathways that differ from these options. It also provides information about how colleges are considering different mathematics pathways, including the University of California and California State University systems' Statement of Competencies in Mathematics Expected for Entering College Students. (See Statement of Competencies in Mathematics Expected for Entering College Students

[PDF].) And it includes advice about the specific competencies students will likely need to succeed in STEM pathways in college. (See Chapter 8 and the appendix.)
What does the draft Mathematics Framework say about access to calculus in high school?
The draft Mathematics Framework includes calculus in the possible high school pathways, and also suggests ways to enable more students to get access to calculus. It notes that many high schools currently organize their coursework in a manner that requires eighth grade acceleration in order to reach calculus or other advanced mathematics courses by senior year. While some students succeed with this approach, acceleration has proved a problematic option for other students who could reach higher level math courses but would benefit from a stronger foundation in middle school mathematics.
In chapter 8, the draft framework notes: "Since achieving a solid foundation in mathematics is more important for long-term success than rushing through courses with a superficial understanding, it would be desirable to consider how students who do not accelerate in eighth grade can reach higher level courses, potentially including Calculus, by twelfth grade. One possibility could involve reducing the repetition of content in high school, so that students do not need four courses before Calculus. Algebra 2 repeats a significant amount of the content of Algebra 1 and Pre-calculus repeats content from Algebra 2. While recognizing that some repetition of content has value, further analysis should be conducted to evaluate how high school course pathways may be redesigned to create a more streamlined three-year pathway to pre-calculus / calculus or statistics or data science, allowing students to take three years of middle school foundations and still reach advanced mathematics courses."
While encouraging greater access to calculus, the framework also presents research that the "rush to calculus" without depth of understanding is not helpful to students' long-term mathematics preparation. Data shows that about one-half of all high school students who take calculus repeat the course in college or take pre-calculus in college.
The Mathematical Association of America (MAA) and the National Council of Teachers of Mathematics (NCTM) issued a joint statement that included the premise: "Although calculus can play an important role in secondary school, the ultimate goal of the K–12 mathematics curriculum should not be to get students into and through a course in calculus by twelfth grade but to have established the mathematical foundation that will enable students to pursue whatever course of study interests them when they get to college." (See MAA and NCTM Joint Statement

).
Similarly, the University of California's board of admissions "strongly urges students not to race to calculus at the cost of full mastery of the earlier math curriculum. A strong grasp of these ideas is crucial for college coursework in many fields, and students should be sure to take enough time to master the material. Choosing an individually appropriate course of study is far more important than rushing into advanced classes without first solidifying conceptual knowledge."
What is the role of Data Science in the draft Mathematics Framework?
From chapter 1: "Given the more-advanced understanding of the individual standards among educators, this framework focuses on connections between standards and across grades. Two chapters are devoted to exploring the development, across the TK–12 grade timeframe, of particular content areas. One such area is number sense across TK–12 (Chapter 3: Number Sense), a crucial foundation for all later mathematics and early predictor of mathematical perseverance. The other is data science (Chapter 5: Data Science, TK–12), which has become tremendously important in the field since the last framework." The framework also documents the recent decisions of several high-achieving countries to include more data science in their curricula, as developing the ability to interpret, use, and analyze data has become a worldwide concern.
What does the draft Mathematics Framework say about "tracking"?
The framework presents national and international evidence suggesting that early tracking decisions which differentiate content before secondary school in ways that later prevent access to advanced courses for many students ultimately tend to lower achievement overall and are not necessary when productive teaching strategies are used. It also recognizes that thoughtful grouping strategies that support students in various ways for tutoring and small group work, as well as supplemental coursework and later course taking, can be helpful when they do not close off options for ultimate access to higher-level mathematics.
The draft states: "This framework proposes grouping systems and other supports that keep higher level pathways open to more students for a longer time—while enabling exceptional students to move at a faster pace through courses as needed. The framework recognizes the diversity of student achievement and sets out ways to teach students so that all students receive appropriate support and challenge."
The framework notes in chapter 9: "This chapter will set out the different ways students may be challenged and supported in mathematics classes with examples of districts and schools that have enacted systems of grouping that support a wider range of students in accessing higher level content. If the goal is to open mathematics pathways to more students and give greater challenge to high achieving students to develop broader proficiency and long-term interest in quantitative fields, then this framework recommends reshaping the content that is offered to students—the way it is taught, and the organization of students learning the content—in the following ways." It goes on to address, with research and examples, teaching multidimensional mathematics through big ideas and connections; personalized learning, including tutoring; additional classes; and flexible versions of student grouping.
The framework notes that: "While early tracking of students into low-level courses has been problematic, there is evidence that thoughtful grouping of students to ensure they receive high-quality instruction geared to their needs at a moment in time can be helpful. This includes students who need to fill in gaps in their prior learning and high-achieving students who are ready to be more intensely challenged. It is also true that teaching heterogeneous classes requires greater skill for differentiating supports than teaching in classes where the range of performance may be narrower, and should be accompanied by high-quality professional development to enable success." The framework reminds educators of the California Mathematics Placement Act of 2015, which requires that every high school placement policy of a local educational agency meet the following requirements (CDE, 2016):
Systematically takes multiple objective academic measures of pupil performance into consideration;


Includes at least one placement checkpoint within the first month of the school year to ensure accurate placement and to permit reevaluation of individual student progress;


Requires an annual examination of pupil placement data to ensure that students are not held back in a disproportionate manner on the basis of their race, ethnicity, gender, or socioeconomic background;


Requires a report on the results of the annual examination by the local educational agency to its governing board or body;


Offers clear and timely recourse for each pupil and his or her parent or legal guardian who questions the student's placement; and


For non-unified school districts, addresses the consistency of placement policies between elementary and high school districts.
Questions: Curriculum Frameworks and Instructional Resources Division |
cfird@cde.ca.gov
| 916-319-0881
Last Reviewed: Friday, July 22, 2022
Mathematics Framework FAQs

(this page)
Recently Posted in Mathematics
No items posted in the last 60 days.