Mental Health Support
The Mental Health Support Initiative focuses on supporting all students and fostering school communities where all students feel supported, respected, and valued.
---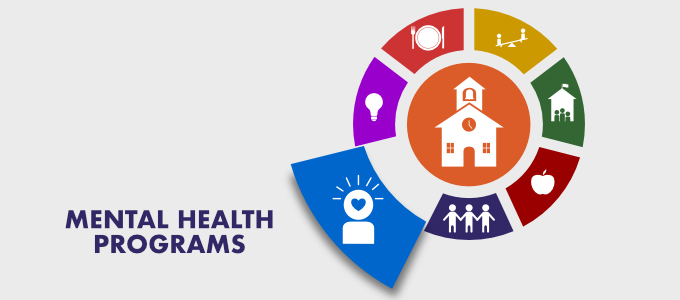 Helping Students and Families Living with Mental Health Issues
One way for schools to help students and their families living with mental illness is to increase the mental health literacy of their staff and students. The more aware teachers, school secretaries, bus drivers, and all staff who have contact with students are, the better equipped they are to notice signs and symptoms early.
It is important for everyone to be aware of behavior that could indicate the need for mental health support and the onset of a mental illness and to become familiar with the resources and the referral process for referring a student and/or family to services and supports.
Creating a nurturing, safe, and respectful school campus where all students are valued and respected and where their voices and opinions matter is the foundation for helping students with mental health issues and needs. When students feel connected, supported, and part of their school community, they have a safe place to thrive despite any challenges they may be facing. For many, school is a safe haven, and as adults we must do what is necessary to foster positive relationships and experiences.
CDE Resources
The California Department of Education (CDE) offers a variety of resources to support mental health. They include the following:
Training in Youth Mental Health First Aid (YMHFA) is offered to school and district staff, parent groups, and community partners at no cost. YMHFA is a 6.5-hour interactive training that can be delivered to adults who work or interact with students ages six to eighteen virtually, in person, or in a hybrid setting.
Monthly webinars to address youth suicide prevention, share best practices and lessons learned, and support local educational agencies (LEAs) in strengthening their prevention, intervention, and postvention practices and forming partnerships with community organizations can be accessed on the CDE Facebook page .
The CDE, San Diego County Office of Education, and LivingWorks are offering the 90-minute interactive LivingWorks Start Online Suicide Prevention Training , available to middle and high school staff and students. This training helps participants learn the signs of depression and suicidal behavior.
Resilient Practices for Educators, Staff Members, Administrators, and Teams is a seven-part staff well-being webinar series. The other aspect of well-being across our school communities is staff wellness. Recognizing that our staff have also experienced challenges during these tumultuous times is paramount. If staff members are not healthy or don't feel supported, they are less likely to be able to support students. The CDE partnered with Kaiser Permanente and the Alliance for a Healthier Generation to host this series. Recordings can be accessed on the CDE Facebook page .
A Trusted Space: Redirecting Grief to Growth is a groundbreaking film-based curriculum created during the height of the pandemic to support our first responders in education. Based on research and neuroscience, the film shares how trusted relationships are the most immediate and potent antidote to the damaging effects of stress and trauma that so many students, families, and teachers—all of us—are navigating.
How the State Is Helping Schools with Mental Health Issues
We have a new generation of students dealing with the loss of loved ones or loss of home or school—our students and staff need mental health support. This is an existing need that has been exacerbated by our times. We are experiencing a shortage of licensed health professionals, in addition to teachers. In order to address the mental health needs of our students, California requires more clinicians. California is the state with the highest number of Behavioral Health Professional Shortage Areas (or BHPSAs)—498 of these areas across the state, affecting nearly 8 million Californians. The BHPSAs disproportionally affect Latinx, African Americans, and Native Americans, as well as individuals living in rural parts of the state.
The 2022–23 California State Budget package includes key investments to meet this need and address shortfalls. The budget includes $184 million for teacher and school counselor residency programs and expands an existing $350 million residency program to school counselors. It also expands the Golden State Teacher Grant Program to provide grants up to $20,000 to individuals pursuing their Pupil Personnel Services credential to serve California students as school counselors. These investments will ensure that we will see more mental health professionals in our schools and joining the workforce to serve our students.
Mental health support is one key part of State Superintendent Tony Thurmond's Transforming School Initiatives.
Questions: Executive Office | 916-319-0800
Last Reviewed: Wednesday, August 03, 2022
Trending in Transforming Schools: Superintendent's Initiatives
Mental Health Support

(this page)
Recently Posted in Transforming Schools: Superintendent's Initiatives
No items posted in the last 60 days.