Universal Prekindergarten
Universal Prekindergarten
The Universal Prekindergarten includes transitional kindergarten and the California State Preschool Program.
---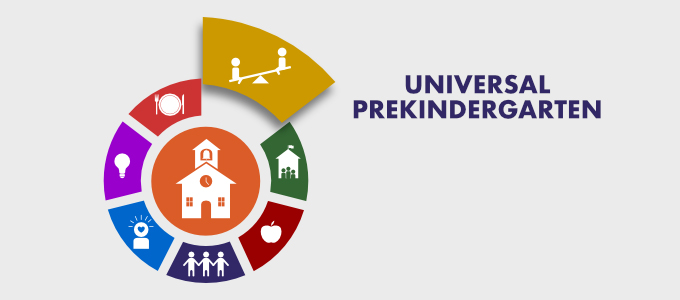 California's Universal Prekindergarten (UPK) investments for FY 2022–23
Guaranteed access to high-quality early learning opportunities for children with disabilities through the California State Preschool Program (CSPP):

A phased in requirement to reserve 10 percent of CSPP enrollment for children with disabilities by 2024–25; in 2022–23, 5 percent of CSPP enrollment in 2022–23 and 7.5 percent of CSPP enrollment in 2023–24 is reserved for children with disabilities.

$250 million to expand the Inclusive Early Education Expansion Program, which funds infrastructure, professional development, and other elements necessary to support general education and special education students in inclusive classrooms.
$485 million to support enrollment of children with disabilities, expand access to three-year-old children, and provide support for dual language learners.
Expanded access and quality for the CSPP, including by providing continuous eligibility for 24 months to high-quality early learning and increasing income eligibility to 100 percent of the state median income.
$300 million for planning and implementation grants for UPK for school districts, charter schools that have kindergarten enrollment, and county offices of education for countywide capacity and support for local educational agencies (LEAs) planning and implementing UPK.
$18.3 million per year for three years for the California UPK Planning Grant Program to support preschool planning in a mixed delivery system. Local Planning Councils (LPCs) will have priority for funding. Resource and referral agencies may partner with an LPC in a lead role.
$614 million for the first year of transitional kindergarten (TK) expansion, making TK eligible for all children turning five years old between September 2 and February 2.
$383 million for an additional adult in TK classrooms to fund lower ratios of 1 adult to 12 students.
$100 million for the California Preschool, TK, and Full-Day Kindergarten Facilities Grant in 2022–23, with another $550 million intended for 2023–24.
California's past UPK investments
$300 million for planning and implementation grants for UPK, including TK. Funding allocations were posted to the CDE Funding Results web page in December 2021. An optional planning template

(DOCX)

to support LEA planning was posted to the CDE website in December 2021.
$130 million for CSPP expansion. The Request for Applications (RFA) can be found on the CDE CSPP RFA web page.
$10 million for the California Preschool Learning Foundations to support UPK curriculum and assessments.
$269.4 million to increase reimbursement rates for California State Preschool Programs.
California launched UPK in the 2021–22 state budget by putting into action recommendations laid out in the California Master Plan for Early Learning and Care through a dramatic expansion of TK for all four-year-old children, with universal access to TK for all four-year-old children by the 2025–26 school year and expanded access to the California State Preschool Program for income-eligible three-year-old children and children with disabilities. By 2025–26, UPK will exist for all four-year-old children in California through a mixed delivery system that will bring together programs across early learning and K–12.
While UPK relies heavily on UTK and CSPP, it also includes other early learning programs serving three-and four-year-old children, including the federal Head Start Program, subsidized programs that operate a preschool learning experience and are operated by community-based organizations (including family child care), and private preschool programs.
Families with four-year-old children can choose which pre-K program to enroll them in, but TK is the only option that will be universally available, and free of cost, for all four-year-old children as part of California's public education system. Part of UPK is also the Expanded Learning Opportunities Program (ELO-P), which helps to create a full-day program that meets the needs of families. As part of UPK, we want to ensure families have a meaningful choice of programs that can support the needs of their children and equitable access to these opportunities.
A major goal of UPK is to not only increase access to early education experiences, but to provide quality and joyful learning experiences—where children with disabilities participate in general education classrooms with their peers and all children engage in culturally and linguistically supportive environments across our UPK system. The current work of CDE in updating the Preschool Learning Foundations, assessments, and curricula will also serve as a quality foundation for UPK, as well as a framework from pre-K to third grade, so that all children are ready to transition to kindergarten and beyond.
To contact the UPK program, email UPK@cde.ca.gov.
For more information, visit the UPK FAQs web page.
Universal Prekindergarten is one key part of State Superintendent Tony Thurmond's Transforming School Initiatives.
Questions: Executive Office | 916-319-0800
Last Reviewed: Wednesday, August 03, 2022
Trending in Transforming Schools: Superintendent's Initiatives
Universal Prekindergarten

(this page)
Recently Posted in Transforming Schools: Superintendent's Initiatives
No items posted in the last 60 days.