California Distinguished Schools Logo
California Distinguished Schools downloadable logo for use by California Distinguished Schools Awardees.
---
California Distinguished Schools (DS) Awardees are encouraged to publicize their status by using the California DS logo and by identifying themselves as a recipient of this award.
Schools may use the California DS logo to advertise their award in many ways, such as on letterhead, newsletters, websites, banners, signage, clothing designs, etc.
Schools recognized as a California DS Awardee hold the DS Title for two years. Schools must include the year of their award when publicizing their status, irrespective of logo use. For example, Name of School, a 2021 California Distinguished School, is correct usage, because the year of the award is coupled with the California DS status in the statement.
Schools must use the California DS logo with the official colors only or in black and white or grayscale, provided to accommodate non-color printing. Schools may not alter the logo design or content. In addition, when using the DS logo, the year should be placed centered, in the bottom of the blue ring.
To download an image:
Click on the file format (below the image) to open the image
Right click on the image and choose "Save link as..." or "Save target as..."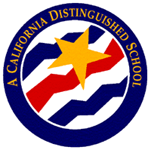 .ai format
.gif format
.jpg format
.pdf format
Printer's Detail:
Blue = PMS 287
Red = PMS 200
Yellow = PMS 123
Last Reviewed: Wednesday, September 27, 2023
Trending in Awards and Recognition
Recently Posted in Awards and Recognition
No items posted in the last 60 days.