California Distinguished Schools Logo
California Distinguished Schools downloadable logo for use by California Distinguished Schools Awardees.
---
Downloadable logo for use by schools recognized as a California Distinguished Schools (DS) Awardee. The file formats below the image link to larger, more detailed versions. The larger images can be cropped and edited to suit your needs. Schools recognized as a California DS Awardee hold the DS Title for two years. When using the logo, the year that a DS receives the DS Award should be included with the image.
To download an image:
Click on the file format (below the image) to open the image
Right click on the image and choose "SAVE IMAGE AS..." or "SAVE PICTURE AS..."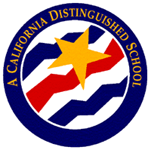 .ai format
.gif format
.jpg format
.pdf format
Printer's Detail:
Blue = PMS 287
Red = PMS 200
Yellow = PMS 123
Last Reviewed: Wednesday, February 7, 2018
Trending in California School Recognition Program
Recently Posted in California School Recognition Program
No items posted in the last 60 days.