California Teachers of the Year Awardees 2019
California Teachers of the Year Awardees for 2019.
---
News Release and biographies of the California Teachers of the Year Awardees for 2019.
Additional information can be found on the October 9, 2018, State Schools Chief Tom Torlakson Announces 2019 California Teachers of the Year News Release #18-65.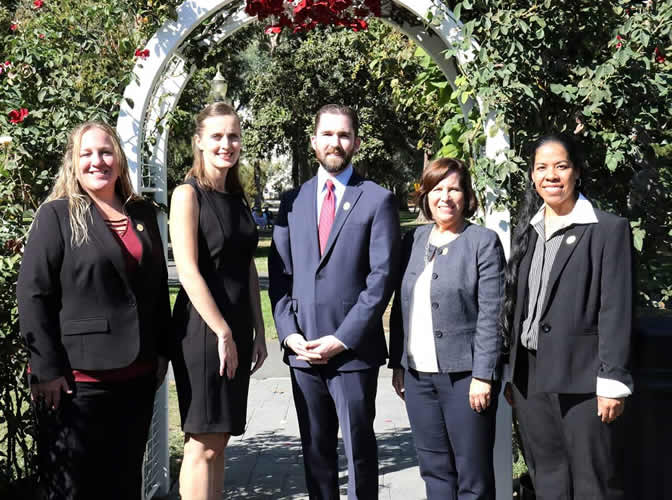 2019 California Teachers of the Year
From left to right: Erica Boomer, Rosie Reed, Michael Henges, Kim Holz, and Angel Mejico.
Erica Boomer
Grades 9–12, Agriculture
Upper Lake High School, Upper Lake
Upper Lake Unified School District, Lake County
"One of the most important aspects of education is the challenge of appealing to the varying styles of learning that are unique to each student. My biggest goal is to help students reach their individual potential." — Erica Boomer
Boomer has been teaching for 12 years, all at Upper Lake High School, where she is also an alumnus, creator of the Agriculture Education Department, a wood and metal shop teacher, science teacher, and a mentor to new agriculture teachers. She also created a school farm and brought in a California Partnership Academy program related to sustainable agriculture and alternative energy so that students can have hands-on, career technical education opportunities.
Her students clearly know objectives when they come into the classroom every day and are ready to work, whether it's in the shop, at the farm, or in the lab. Boomer creates a personal connection with students and uses humor to help them feel more comfortable and less pressure, so that they're ready to interact with the lessons and other students. Each period of the day brings with it a different type of lesson, a lab, or activity, and then hands-on interactive lessons.
Angel Hayenga, English Department Chair at Upper Lake High School said "Beyond the knowledge, the best teaching practices, the rigorous standards—Erica loves her students. You can hear it in their voices when they call her "Boom," and you can see it in their eyes when they look at her in wonder, cradling a baby chick in their palms."
Erica Boomer may be reached at Upper Lake High School at 707-275-2338 or eboomer@ulusd.org.
Michael Henges
Grade 12, Government and Economics
Redondo Union High School, Redondo Beach
Redondo Beach Unified School District, Los Angeles County
"Over the years, I have come to realize that good teaching is similar to a good recipe. There are a lot of different ingredients that make a unit or lesson plan come together, but it is not always obvious why it works. My teaching philosophy has been one of continual experimentation and humility when it does not go the way you want. The nice thing about taking risks in the classroom is that eventually you will stumble upon some great recipes." — Michael Henges
Henges has been teaching for 11 years, seven years in his current position at Redondo Union High School. He is also a mock trial coach, Social Studies Department co-chair, and lead instructional technology teacher.
In his classroom, students are seated in groups of four, to both increase collaboration and help with informal check-ins to see if they need any help. He uses data from Advanced Placement Government exams every year to align the rigor of the class with the exam, so students have an honest assessment of where they stand. He has also implemented project-based learning, such as large-scale election simulations across all of his classes, complete with caucuses, primaries, debates, and a general election. Most recently, he initiated a civic engagement project where all seniors are required to participate in at least one civic activity before they graduate. This has led to many students being involved in the community, including some obtaining internships with state and local officials.
"In the classroom, Mr. Henges brings learning to life," says Principal Jens Brandt. "Working with seniors is no easy task as the year winds down and they can be quick to feel the pull of summer vacation, college adventures, and the 'freedom' of adulthood. Mr. Henges' class, though, is a space where engagement never ceases until the final bell chimes.
Michael Henges may be contacted at Redondo Union High School at 310-379-5449 or mhenges@rbusd.org.
Kim Holz
Grade 4, Multiple Subjects
Opal Robinson Elementary, Manhattan Beach
Manhattan Beach Unified School District, Los Angeles County
"Although teaching is an ever-changing profession, molded each year by the students with whom we have the honor of instructing, there are some salient threads at the core of my practice. Sensitivity, humor, reinforcement, motivation, practice, exploration, inquiry, and discovery are common threads that weave in and out, throughout my day." — Kim Holz
Holz has been teaching for 38 years, 21 years in her current position at Opal Robinson Elementary School. She is also a Positive Behavior Intervention and Support site leader, mentor, and leader in her district's education community. She uses personalized learning, engagement, and differentiated instruction to help each student reach their greatest potential as learners who can collaborate, create, problem-solve, and communicate effectively.
Her personal style—anecdotes, connections made with students, and bits of humor—adds to a nurturing learning environment where students feel treasured for their uniqueness, stimulated by a motivating curriculum, and engaged in learning. Her classroom is rich with student work and visual displays. Each thematic unit of instruction is integrated with literature, writing, math, history, science, and fine arts. Lessons are differentiated to meet children where they are and move them successfully to their next steps.
Katherine Whittaker Stopp, Manhattan Beach Unified's Assistant Superintendent of Education Services, said "I could think of no one more knowledgeable and influential to help our district make the shift toward California Common Core Standards in English Language Arts. She supported a new crop of young teachers on their journey as educators by sharing her understanding of each component of balanced literacy. Her peers made great growth as a result of her tutelage. I would be remiss to portray Mrs. Holz as just a literacy expert, for she is also a consummate educator of history-social studies; in all my years, I've seen no one create learning energy around it like Kim."
Kim Holz may be reached at Opal Robinson Elementary School at 310-318-5120 or kholz@mbusd.org.
Angel Mejico
Grades 7–8, Art
El Cerrito Middle School, Corona
Corona-Norco Unified School District, Riverside County
"I immerse students in technology: cinematography, animatronics, projection mapping, light boards. Art opens their eyes to alternative world views. It explodes in them, goading them to be great in everything they do using new ways to do it. I teach the child, not just art. Art is the path to introduce life skills." — Angel Mejico
Mejico who has been teaching for 15 years, five at El Cerrito Middle School, realized she wanted to be a teacher during medical school. She would follow her heart to "do no harm" not in a hospital, but in a classroom. She earned a doctorate in education, taught high school natural science, middle school art, and physical education. She founded the Art Academy and an annual Art Expo at El Cerrito Middle School with students, staff, and the community. But her real passion is helping students find their purpose.
She teaches art to 450 students each year: general education, English language learners, accelerated students, and disabled and special day-class students. She seizes cross-curricular opportunities to mix art with core academics. Language arts uses art to create poetry. Home economics incorporates principles of design into banking. In self-assessments, students design a personal curriculum map outlining what they are studying: elements of art, artists, media, and famous works.
Kelly Perkins, El Cerrito Middle School Physical Education Teacher, said: "Dr. Mejico's positive attitude is infectious and her students respond to the high expectations she sets forth in her classroom. Dr. Mejico includes all learners in daily curriculum by using their experiences, interests, and backgrounds of students while implementing strategies to present the visual arts to all learners."
Angel Mejico may be reached at El Cerrito Middle School at 951-736-3216 or amejico@cnusd.k12.ca.us.
Rosie Reid
National Teacher of the Year Candidate
Grades 9–12, English
Northgate High School, Walnut Creek
Mount Diable Unified School District, Contra Costa County
"I strive to be a status quo disruptor and an agent of social justice, while engaging in a rigorous, standards-based English curriculum. So often teachers feel that if they are thinking about issues of equity and implicit bias, they must compromise rigor in order for all students to be successful; in fact it is by helping our most socially marginalized students develop literacy (and numeracy) skills that we may achieve social equity." — Rosie Reid
Reid has been teaching for 16 years, the last two at Northgate High School. She was the first in her family to go to college, largely because of her educators' efforts, and she became a teacher to pay this forward. She has taught every level of high school English and is part of the English Learner Review Team to monitor English learners and mentor teachers. Most recently, she founded and leads an equity task force at her high school.
Reid uses standardized test data to see individual student progress, identify patterns with groups of students, and remediate achievement gaps for marginalized students. Guest speakers and out-in-the-world projects enliven the curriculum and give students a wider perspective. And she requires that all students practice their expressive language daily for consistent participation from all students. She selects materials from a diverse range of authors and articles about relevant and compelling social issues so that every student sees themselves in the coursework, feels the work matters, and realizes how much their voices matter.
Students Lark Chang-Yeh and Sofia Saraj (now grade 11), said "Ms. Reid does not just teach English. She inspires us to become involved in our community, to relate curriculum to larger world issues, and to express ourselves by articulating our ideas through writing and public speaking…" Reid shows each student equally that she cares about them through individual meetings, personal check-ins and constructive feedback."
Rosie Reid may be reached at Northgate High School at 925-938-0900 or reidr@mdusd.org.
Last Reviewed: Thursday, August 1, 2019
Trending in Awards and Recognition
Recently Posted in Awards and Recognition
No items posted in the last 60 days.