Addendum Cover Letter for Federal Liaison Officer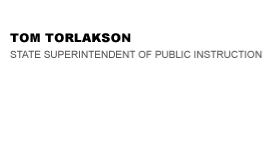 California Department of Education
Official Letter
California Department of Education
Official Letter
Dear Prospective Bidders:
ADDENDUM #1 TO THE REQUEST FOR PROPOSAL FOR THE FEDERAL LIAISON OFFICE FOR THE CALIFORNIA DEPARTMENT OF EDUCATION AND THE STATE SUPERINTENDENT OF PUBLIC INSTRUCTION
Enclosed is an addendum to the RFP for the Federal Liaison Officer for the California Department of Education and the State Superintendent of Public Instruction. The original RFP posted on September 12, 2012.
Please use this addendum to update your copy of the RFP.
You can view a copy of the RFP on the CDE Request for Proposals Web page at: http://www.cde.ca.gov/fg/fo/r7/fedliaisonofficer12rfp.asp. The deadline for submission of the proposal is October 25, 2012, by 2p.m., PDT. It is expected that the contract awarded will commence on January 1, 2013, and will extend through December 31, 2014. At the discretion of the CDE, the contract may be extended for a third year (under the same terms and the same or lower rates). Funding of the proposed contract is contingent upon the appropriation and availability of funds to the CDE.
A maximum of $245,440 for each calendar year has been budgeted by the CDE for this project.
Direct any questions regarding this addendum to Erika Webb-Hughes, Federal Policy Liaison, Government Affairs Division by e-mail only at ehughes@cde.ca.gov [Note: the preceding contact information is no longer valid. Please contact the Government Affairs Division at 916-319-0821 for more information.].
Sincerely,
Richard Zeiger
Chief Deputy Superintendent of Public Instruction
EG:ewh
Last Reviewed: Tuesday, October 18, 2016