Coronavirus Response and School Reopening Guidance
Information and resources regarding CDE's COVID-19 response efforts, including the guidance document for safely reopening schools for the 20-21 school year.
---
The California Department of Education (CDE) is monitoring the 2019 Novel Coronavirus (COVID-19) situation and working closely with agency partners. Local educational agencies (LEAs) are encouraged to follow California Department of Public Health recommendations. LEAs should identify plans for communicating with families and consider learning supports for school closures.
---
New Safe Schools for All Hub Offers Updated Health Guidance
The State has formally launched a new Safe Schools for All Hub

, a one-stop shop for state guidance and resources on safely resuming in-person instruction.
The Hub provides the most updated guidance for all schools to follow, directives for reporting data, and links to for additional resources, including how to implement school-centered testing.
School administrators can request technical assistance

for developing and implementing safety plans from the State Safe Schools Team and school staff and parents can report school-specific safety concerns and feedback

to the State Safe Schools Team.
This Hub will continuously be updated with additional guidance, resources and information.

---
California Department of Education (CDE)
From Tony Thurmond, SSPI (Updated 4-June-2021)
One place for COVID-19 news releases and correspondence from Tony Thurmond, State Superintendent of Public Instruction (SSPI).
AB 86
Other Key Resources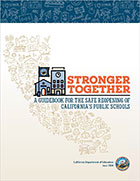 Stronger Together: A Guidebook for the Safe Reopening of California's Public Schools
Assessments
Accountability
Child Care and Student Supervision
Data
Distance Learning
Early Learning and Care
Funding
Mental Health
School Meals
Special Education
California Department of Public Health (CDPH)
Public health experts have issued guidance on safe returns to in-person instruction since May 2020, and have updated and expanded since then. Learn more about key prevention and mitigation measures

.
Additional information related to schools can also be found here:
Guidance for Small Cohorts/Groups of Children and Youth (August 25, 2020)


Guidance for necessary in-person child supervision and limited instruction, targeted support services, and facilitation of distance learning in small group environments for a specified subset of children and youth, and for those programs to understand the required health and safety practices needed to prevent the spread of COVID-19 in their settings.
Outdoor and Indoor Youth and Recreational Adult Sports


Guidance for youth in grades K-12 in school, community-sponsored recreational, club sports, organized youth sports, and adults playing recreational sports.
COVID-19 Update Guidance: Child Care Programs and Providers (July 17, 2020)

(PDF)
California Office of Governor Gavin Newsom
Executive Order N-73-20: Bridging the Digital Divide by Mobilizing Across State Government

Executive Order N-66-20: Temporarily Suspending Examination Requirements for Teacher Candidates Impacted by COVID-19

Executive Order N-56-20: Empowering Schools to Focus on COVID-19 Response and Transparency

Governor Newsom Announces Cross-Sector Partnerships to Support Distance Learning and Bridge the Digital Divide

Executive Order N-47-20: Expand Support for Vulnerable Populations

Executive Order N-45-20: Provide Expanded Access to Child Care for Essential Workers During COVID-19 Response

Executive Order N-30-20: Suspend Standardized Testing for Students in Response to COVID-19 Outbreak

Executive Order N-26-20: Ensuring State Funding for Schools Even in Event of Physical Closure

Governor Newsom Declares State of Emergency to Help State Prepare for Broader Spread of COVID-19

Joint K-12 and Higher Education California Agencies
Information on College Admissions, Grading, and Graduation Requirements
Last Reviewed: Wednesday, June 16, 2021