CSEY Awardees 2019
Classifed School Employees of the Year Awardees for 2019.
---
News Release and biographies of the Classified School Employees of the Year Awardees for 2019.
Additional information can be found on the April 29, 2019, State Superintendent Tony Thurmond Announces 2019 Classified School Employees of the Year News Release #19-30.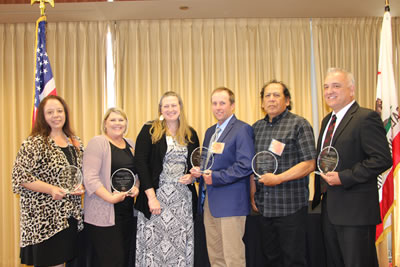 2019 Classified School Employees of the Year
From left to right: Maria Arroyo, Deborah Watkins, Michelle Brobak, Kim Bramsen, Ramon Moreno, and Benito Torres.
Deborah Watkins
Child Nutrition Category
Food Service Cook, 24 years in current position
Costa Mesa
Orange County District Office
Ms. Watkins has a incredible work ethic and goes above and beyond to ensure the cleanliness standards in the kitchen are impeccable and that all rules and regulations are followed. Debbie is responsible for planning, cooking and distributing 7500 meals to our Westminister Elementary school sites each day. In the 24 years, she has worked for the District there has not been a single day that students have not received a meal. Debbie is one of the most reliable, hard-working individuals in the district.
Kim Bramsen
Maintenance, Operations, and Facilities Category
Director of Maintenance and Operations, 21 years in current position
Ballard Elementary School, Solvang
Ballard School District, Santa Barbara County
Beyond taking great care of the school, Kim is an integral part of the community at Ballard School. An elementary school with around 120 students, Kim gets to know each child by name, and established relationships with them. He is always a willing participant in the hijinks of the kindergarten classroom, whether it involves leprechauns and their mischief or regaling the children with historical tales of the school house.
Michelle Brobak
Office and Technical Category
School Secretary, 7 years in current position
Del Rey Elementary School, Orinda
Orinda Union School District, Contra Costa County
Ms. Brobak runs the Del Rey front office with heart. Students trust her and feel safe. She is calm and reassuring, particularly when dealing with injured students and their concerned parents. On many occasions, teachers and staff report escorting a crying child to the office during yard supervision and witnessing Ms. Brobak quickly assessing the situation, providing necessary first aid, and ensuring the student feels safe and as comfortable as possible.
Maria Arroyo
Para-Educator and Instructional Assistance Category
Behavior Specialist, 12 years in current position
Daly Academy, Bonita
Chula Vista Elementary School District, San Diego County
There is not a single "hat" that Ms. Arroyo doesn't wear at Daly Academy. The work that Maria does on any single day is nearly unmatched it takes a special type of person to do it all with a smile and a desire to do it well so that students have an amazing day. Maria understands Trauma informed care and never takes things personally. The children immediately know they will be loved, cared for, and educated. This allows for an environment of grace which helps our children thrive.
Benito Torres
Support Services and Security Category
Police Officer, 19 years in current position
Stagg Senior High School-Stockton Public Safety Academy, Stockton
Stockton Unified School District, San Joaquin County
During his 19 years of service with Stockton Unified School District Police Department, Officer Torres has worked in many capacities. He exudes the definition of role model and mentor for the students. He is passionate about so many things, especially making a difference in the lives of others. That includes taking a call on his personal cellphone at 1 a.m. from a scared cadet whose house was just shot at, helping a family who can't afford medication for their child, and simple everyday actions that make everyone he encounters feel safe, heard and important.
Ramon Moreno
Transportation Category
Bus Driver, 12 years in current position
Greenfield
Greenfield Union School District, Monterey County
Mr. Moreno is a bus driver for special education students that get services in other school districts in Monterey County. He is always conscientious about students' feelings and wellbeing. There are times that his routes result in a very long journeys due to traffic or delays. During these times, Mr. Moreno engages with students when they become irritable or sad. He is in constant communication with parents during these delays. He personally communicates and informs parents of transportation time changes in his route. These are tasks that he does not have to perform, but is willing to do to ensure students are comfortable and parents have piece of mind.
Last Reviewed: Friday, February 21, 2020
Trending in Awards and Recognition
Recently Posted in Awards and Recognition
No items posted in the last 60 days.