Regional Assessment Network
Map of California and regional contact information for the Regional Assessment Network (RAN).
---
The County Office of Education (COE) RAN members represent a sub-committee of the Curriculum and Instruction Steering Committee (CISC) of the California County Superintendents Educational Services Association (CCSESA). The purpose of RAN is to develop a knowledge and understanding about California's assessment and accountability systems by facilitating communication between the California Department of Education (CDE) and COEs, which represent the schools, districts, and county offices in their region.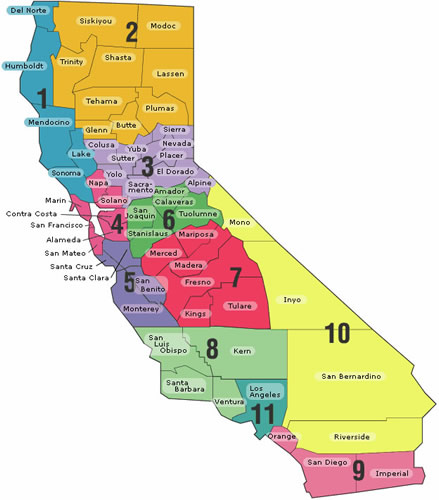 The RAN is a joint effort of the CISC and the Assessment and Accountability Division of the CDE. The decision about whom to appoint as an official COE RAN member is a regional decision, not determined by the CDE. For more information about RAN, contact your regional representative listed below.
Regional Contact Information
Region
Counties
Regional Assessment Network (RAN)
Contacts
1

Del Norte, Humboldt, Lake, Mendocino,
Sonoma

Sarah Lundy
Sonoma County Office of Education
707-522-3069
slundy@scoe.org

2
Butte, Glenn, Lassen, Modoc, Plumas, Shasta, Siskiyou, Tehama, Trinity

Shere Depaoli
Shasta County Department of Education
530-605-2810
sdepaoli@shastacoe.org

3
Alpine, Colusa, El Dorado, Nevada,
Placer, Sacramento, Sierra, Sutter, Yolo, Yuba

Kevin Monsma
El Dorado County Office of Education
530-295-2271
kmonsma@edcoe.org


Rachel Perry
Sacramento County Office of Education
916-500-1716
rperry@scoe.net


4
Alameda, Contra Costa, Marin, Napa,
San Francisco, San Mateo, Solano

Tacey Rodgers
Solano County Office of Education
707-399-4449
trodgers@solanocoe.net

Scott Figgins
Alameda County Office of Education
510-670-4245
sfiggins@acoe.org

Ingrid Roberson
Alameda County Office of Education
510-670-4245
ingridr@acoe.org


5
Monterey, San Benito, Santa Clara, Santa Cruz

Deann Walsh
Santa Clara County Office of Education
669-212-4461
dwalsh@sccoe.org

Dan Mason
Santa Clara County Office of Education
408-453-4346
dmason@sccoe.org

David Dobrowski
Monterey County Office of Education
ddobrowski@montereycoe.org


6
Amador, Calaveras, San Joaquin, Stanislaus, Tuolumne

Rex Tschetter
Stanislaus County Office of Education
209-238-1313
rtschetter@stancoe.org

7
Fresno, Kings, Madera, Mariposa, Merced, Tulare

Lisa Rodriguez
Kings County Office of Education
559-589-7038
lisa.rodriguez@kingscoe.org

Corey Greenlaw
Fresno County Office of Education
559-265-4046
cgreenlaw@fcoe.org

8
San Luis Obispo, Santa Barbara, Ventura, Kern

Greg West
Kern County Office of Education
661-636-4171
grwest@kern.org

9
Imperial, Orange, San Diego

Jeanette Montano
Imperial County Office of Education
760-312-6578
jmontano@icoe.org


Diane Ehrle
Orange County Office of Education
714-966-4391
dehrle@ocde.us

Erin Gordon
San Diego County Office of Education
858-295-8819
erin.gordon@sdcoe.net


10
San Bernardino, Inyo, Riverside, Mono

John Massie
San Bernardino County Superintendent of Schools
909-386-2958
john.massie@sbcss.net

Chun-Wu Li
Administrator, Assessment and Accountability
Riverside County Office of Education
951-826-6153
cli@rcoe.us

11
Los Angeles

Evan Bartelheim
Los Angeles County Office of Education
562-922-6742
Bartelheim_Evan@lacoe.edu


Jessica Conkle
Los Angeles County Office of Education
562-922-6404
Conkle_Jessica@lacoe.edu
Questions: Assessment Development and Administration Division | 916-319-0803
Last Reviewed: Friday, December 3, 2021
Recently Posted in Testing